Hockey and Logic
The NHL commissioner Gary Bettman has made the NHL into a money making machine for just over 21 years.  Since he has been in charge the NHL has seen him expand the league from 24 teams, to 30 since 1993.  Those six teams added to the league are the Florida Panthers in 1993-94, Anaheim Mighty Ducks 1993-94 (Renamed Ducks in 2005-06), Nashville Predators in 1998-99, Atlanta Thrashers 1998-99, Minnesota Wild in 2000-01 and the Columbus Blue Jackets in 2000-01.  He has also moved the Quebec Nordiques to Denver (Colorado Avalanche) in 1995-96 and one of the failed expansion teams mentioned before, the Atlanta Thrashers to Winnipeg.  He has also been instrumental in keeping the Arizona Coyotes (Formerly known as Phoenix) in Glendale Arizona through bankruptcy and a pathetic attendance record.  Now we get to my point.  Why would the league expand to places that are not hockey markets like Atlanta, Florida and Nashville, and not feed hungry Canadian hockey markets.
Premises 1: Gary Bettman has been instrumental in turning the NHL into a money making machine.
Premises 2: Large American markets like New York and Boston are strong hockey markets, just like markets in Toronto and Montreal are equally as strong.
Premises 3: Canadian markets like Quebec and Hamilton have been hungry for a hockey team for a long time, and would have substantial fan support and very strong attendance in arenas.
Conclusion: Hockey is strong in markets like Florida and Arizona, and those teams should not be moved to hungry Canadian markets.
Now that is not a true conclusion.  It has been proven time and time again that markets like Florida and Arizona are not strong hockey markets and have weak attendance records.  Arizona has been through two long ownership disputes and claimed bankruptcy in 2009.  The NHL paid to keep the Coyotes in Arizona until 2013.  Florida has the second lowest attendance record in the league before Arizona and ownership has already stated they are willing to sell the team and are willing to have the team moved.  So if Bettman is out to make money, then why is he keeping teams in weak markets.  Most NHL arenas average around 20, 000 maximum capacity and in Florida, usually they average less than half of the maximum capacity on paper.  And when I say on paper it means the amount of tickets sold for the game, the amount of people that actually show is usually less than a quarter of the max capacity. It was just the other night that the Ottawa Senators were in Florida and they had a franchise low 7,311 attendance record.  There were far fewer than 7,000 actually in the crowd.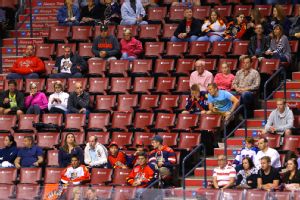 That is just a little taste of the dismal turnout.
"There was a lot of air and a lot of silence up in the stands." is what Clarke Macarthur had to say about the crowd.
A poor team often leads to low attendance but in this case you could argue it the other way around.  A good crowd leads to a good morale and gives energy to the team.  It was similar in Atlanta before they moved to Winnipeg.  The Winnipeg Jets have the smallest arena in the league with a capacity with just over 15,000 and they sell out every night.  At the end of the day, wins lead to fans, fans lead to attendance and attendance leads to money.  No attendance in these markets, means no money to be made.
Below is a list of the overall attendance record from last season and the nightly average of attendance. Don't apply attention to the road record it doesn't apply to this article.